NCC PORTAL
Find resources from across the six NCC's
The Portal brings together a broad selection of resources from all six of the National Collaborating Centres (NCCs). Search for resources by clicking on NCC, Type, Topic and Core Competency.

Please note: the Portal is not exhaustive and not all resources are indexed by PHAC Core Competency.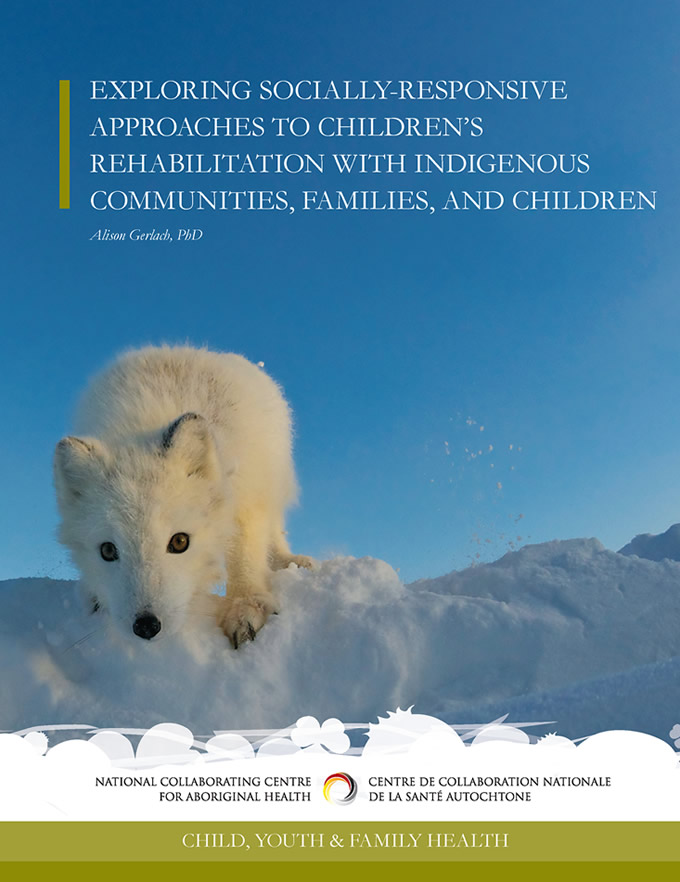 |
Indigenous children are often denied timely access to critical healthcare and social services that are available to other Canadian children. This is primarily due to chronic underfunding and jurisdictional disputes and confusion over the funding of services. To ensure that Indigenous children have equitable opportunities, developmental and health trajectories, and quality of life and well-being across their life course as non-Indigenous children do, a critical examination of Indigenous children's rehabilitation is needed.
This paper, authored by Alison Gerlach, PhD, summarizes knowledge about rehabilitation for Indigenous children with developmental challenges, disabilities, and complex health conditions. It explores the relevancy of the concepts of 'disability' and 'rehabilitation' within the settler-colonial context of Canada, highlights emerging themes in the literature on rehabilitation with Indigenous children in Canada, and identifies current gaps in knowledge and areas for future research. The paper argues that in order for children's rehabilitation to be responsive to the lived realities of Indigenous communities and families, service delivery models, policies and practices must be informed by an understanding of dis/ability in relation to the multifaceted, historical, and ongoing effects of colonization. This requires a radical shift in service delivery grounded in Indigenous self-determination and human rights.
Read More
|
In this video series, four Canadian experts explain why evidence-informed decision making is essential for public health. David Mowat, Carol Timmings, Gaynor Watson-Creed and Jocelyne Sauvé talk candidly about the impact that using evidence has had on their practices.
Read More
|
This third environmental scan from the NCCDH responds to recent concerns about the Canadian health sector's significant decline in commitment to public health programs and services. The scan explores implications for the public health sector in undertaking effective action to address the social determinants of health and improve health equity in this context.
Read More
11/02/2017
|
Aboriginal Health, Children & youth, Core competencies, Environmental Health, Healthy Public Policy, Indigenous health, Intersectoral Action, Sex and gender, Social determinants of health and health equity
Report
Joint project (all or multiple NCCs), NCCDH, NCCEH, NCCHPP, NCCID, NCCIH, NCCMT
1.1 Health knowledge, 1.2 Health system knowledge, 1.4 Use evidence and research , 2.1 Recognize health issues, 2.5 Determine meaning, 5.1 Recognize influence of health determinants, 5.2 Address population diversity , 7.2 Contribute to shared vision
|
The six NCCs for Public Health collaborated on a project to increase understanding of population mental health promotion for children and youth. Together, they developed a collection of documents to mobilize knowledge, clarify key concepts, and strengthen public health practice in this area.
Read More
|
Presentations: An overview of private law concepts Dawn House Overviews of constitutional law and administrative law Angela Westmacott, Lovett Westmacott Barristers and Solicitors
Read More