NCC PORTAL
Find resources from across the six NCC's
The Portal brings together a broad selection of resources from all six of the National Collaborating Centres (NCCs). Search for resources by clicking on NCC, Type, Topic and Core Competency.

Please note: the Portal is not exhaustive and not all resources are indexed by PHAC Core Competency.
12/31/2017
|
Air, Communication/ knowledge sharing, Community Engagement, Contaminants and hazards , Core competencies, Environmental Health, First Nations health, Food, Health Impact Assessment, Indigenous health, Indigenous knowledges, Inuit health, Mental health and wellness, Métis health, Policy analysis, Population health status reporting, Program evaluation, Research methods, Social determinants of health and health equity
Report, Review of Evidence
NCCDH
|
This report from Northern Health explores how resource extraction and development can influence the social, cultural and economic determinants of health, including the cumulative impact on the health and well-being of individuals and communities.
Read More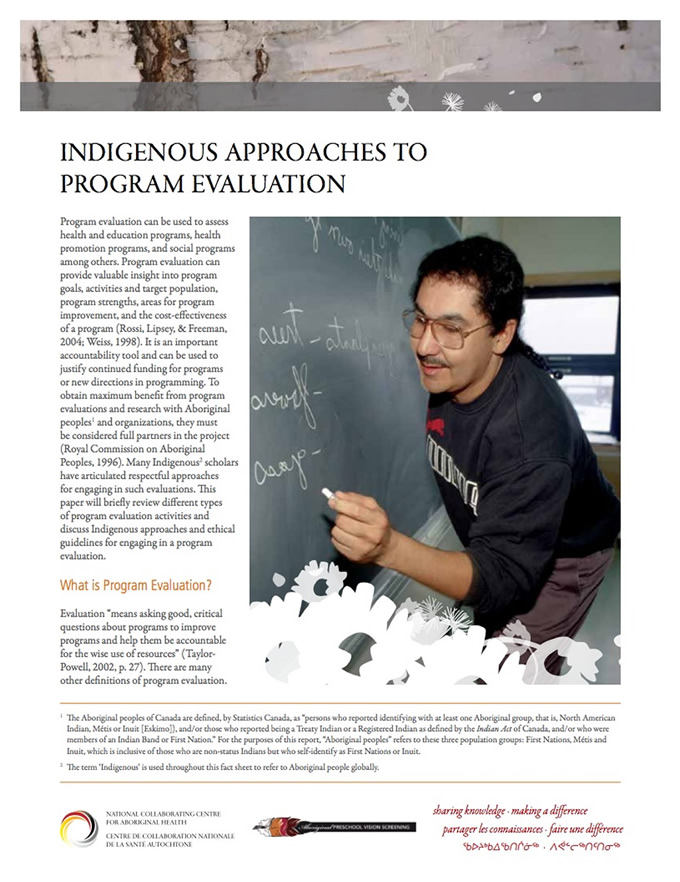 |
This fact sheet reviews different types of program evaluation activities and discusses Indigenous approaches and ethical guidelines for engaging in a program evaluation.
Read More