NCC PORTAL
Find resources from across the six NCC's
The Portal brings together a broad selection of resources from all six of the National Collaborating Centres (NCCs). Search for resources by clicking on NCC, Type, Topic and Core Competency.

Please note: the Portal is not exhaustive and not all resources are indexed by PHAC Core Competency.
06/17/2010
|
Environmental Health, Health Impact Assessment, Policy, Public health roles
Case Study, Fact Sheet/ Backgrounder, Framework, Tool
NCCEH
1.4 Use evidence and research , 3.1 Describe policy and program options, 3.2 Understand implications, make recommendations, 4.1 Identify partners and collaborators
|
How ready is your organization to work in this area? We've developed resource materials to be used as a package or separately.
Read More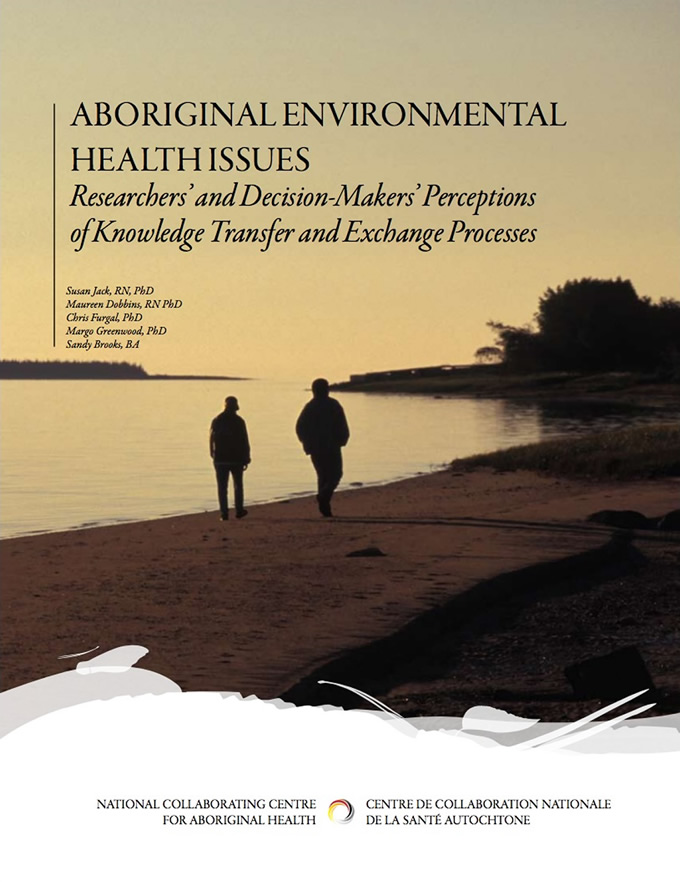 |
Environmental health policies are often the result of highly political processes, with varied impacts on communities, regions and interests. This newly released, NCCAH-supported report by a team of scholars sheds light on Canadian Aboriginal environmental health processes and makes recommendations to support improved sharing of information and knowledge. The report highlights the need to incorporate Traditional Knowledge in decision-making processes, and finds that relationships among researchers, communities and decision-makers must be based on trust, respect, empowerment and equity.
Read More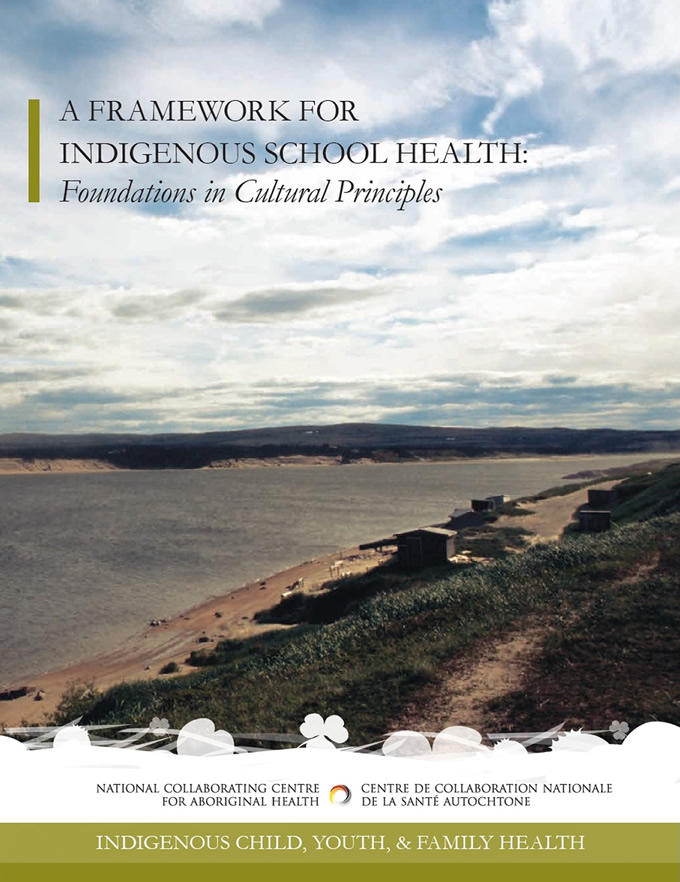 |
This internationally recognized collaborative report with the Canadian Council on Learning - Knowledge Centre on Aboriginal Learning, and the Canadian Association for School Health, provides a framework for resdesigning school-based health programs to better meet the needs of Indigenous children and communities. The framework is based on 'five strong threads' that shape Aboriginal world views, as identified through international collaborations among Indigenous practitioners. The framework was presented at an international health promotion conference in Geneva, Switzerland in July 2010.
Read More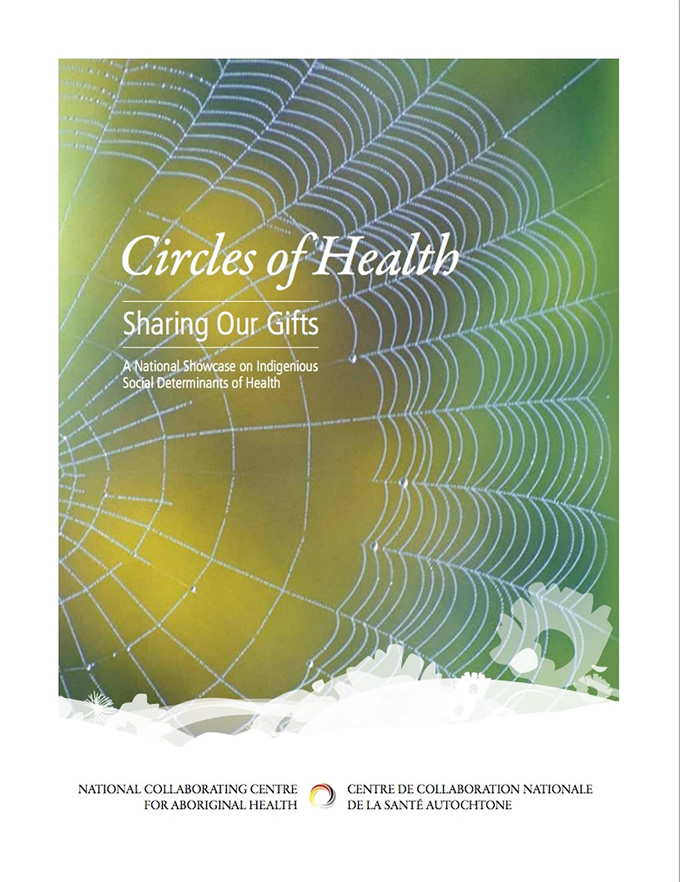 |
A short narrative report of the inaugural NCCAH Forum with National Aboriginal Organizations on the Social Determinants of Aboriginal Peoples' Health, held in Ottawa in 2008.
Read More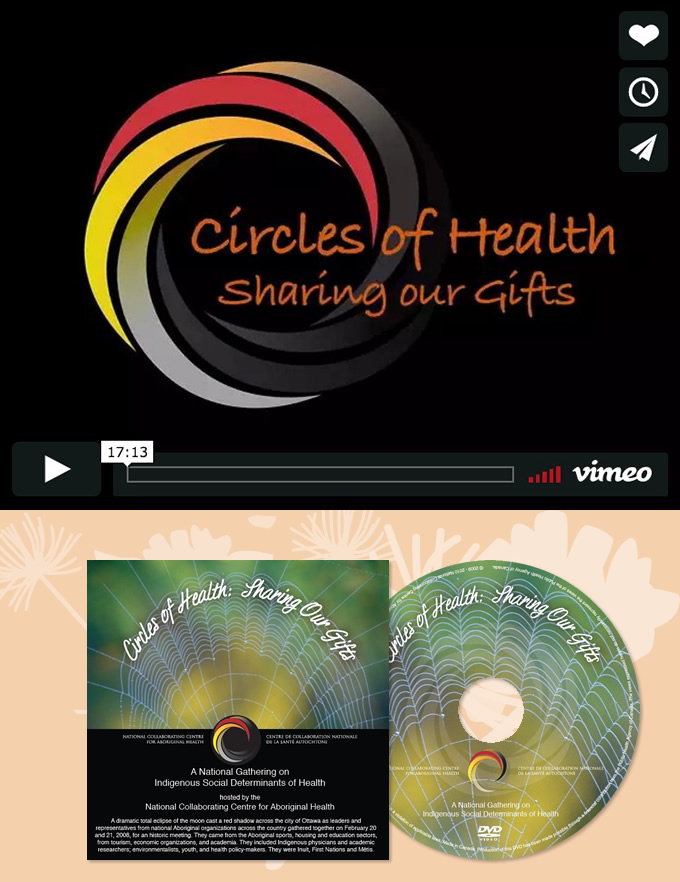 |
A dramatic total eclipse of the moon cast a red shadow across the city of Ottawa as leaders and representatives from national Aboriginal organizations across the country gathered together in Feburary 2008 for an historic meeting.
Read More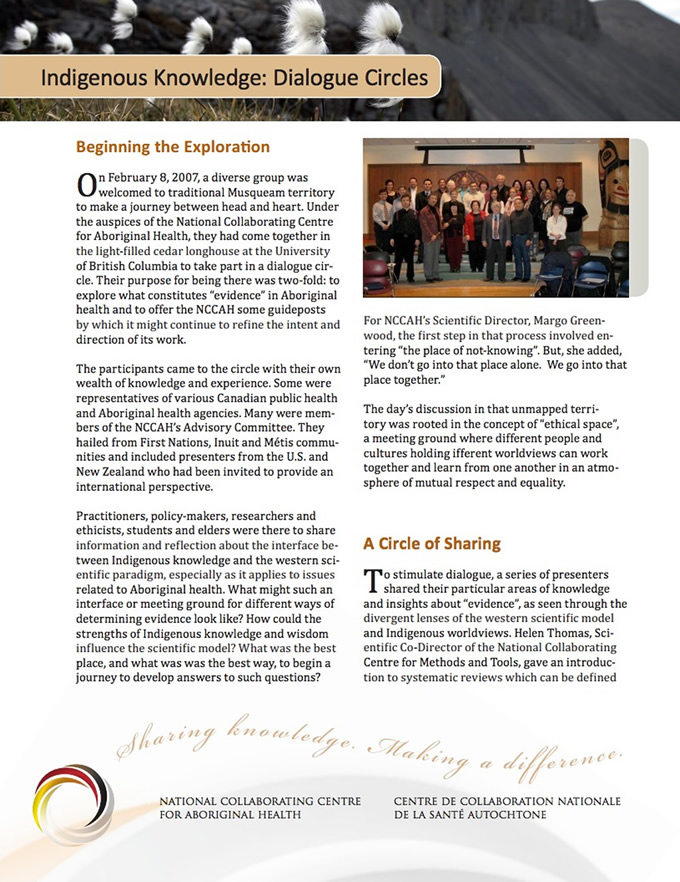 |
A short narrative report accompanying our DVD Dialogue Circle: Ways of Knowing. Looking through the lens of Indigenous Knowledge, participants in an NCCAH-hosted 'dialogue circle' in Vancouver B.C. explore what constitutes 'evidence' in Aboriginal health.
Read More
|
This series of practice examples describes how three public health units use a targeting within universalism approach to advance health equity.
Read More
&nbspFirst Page&nbsp &nbspPrevious Page&nbsp &nbsp19&nbsp&nbsp20&nbsp&nbsp21&nbsp